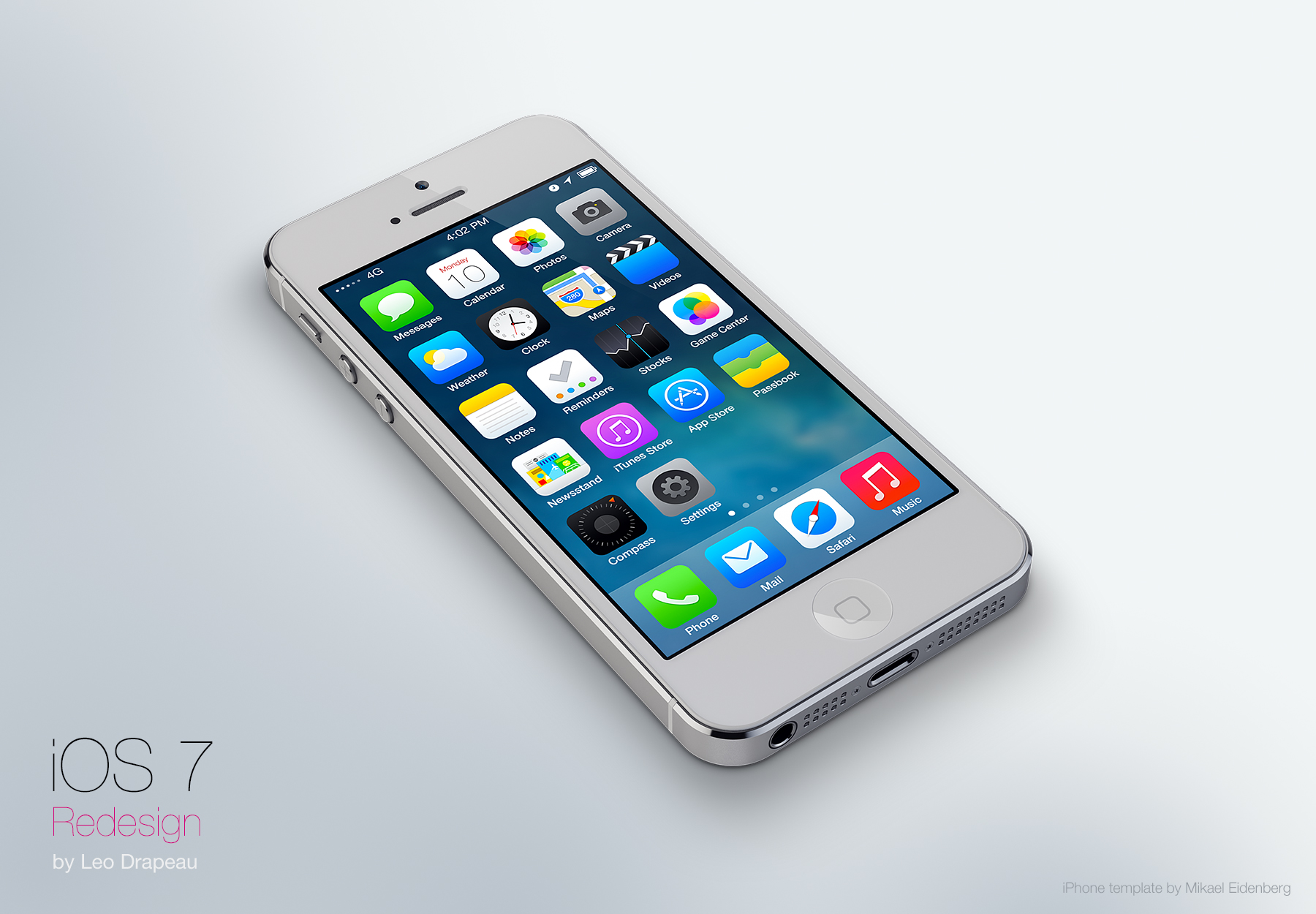 1. Find an iOS 7 GM download link from a site like IMZDL or on social media.
2. Download the right iOS 7 GM for your iPhone, iPad or iPod touch.
3. Plug the device into the computer and perform a backup. Installing the iOS 7 beta will erase your iPhone so plan to wait for a restore and sync. We didn't lose any data, but if this sounds like a hassle, wait until the official iOS 7 release date.
4. Open iTunes (NOTE: Must install iTunes 11.1 - Download from here) and upgrade to the iOS 7 Beta by choosing Restore.
Be sure to hold alt/option on Mac when you click Restore.
On Windows, hold Shift when you click Restore.
5. Find and click on the .ipsw file you downloaded.
6. Complete the iOS 7 installation and restore from backup.
Users can install the iOS 7 GM on the iPhone 5, iPhone 4S, iPhone 4, iPad 4, iPad 3, iPad 2 and iPad mini as well as the iPod touch 5th gen.
iOS 7 GM Direct Download Links By: http://iMZDL.com!

Please copy and paste download links into your browser.

Please follow us for real-time updates:

Twitter: http://twitter.com/iMZDL

Facebook: http://facebook.com/iMZDL

Google+: https://plus.google.com/+iMZDL

Register your UDID on http://iMZDL.com/udid.php

Unlock your iPhone on http://iMZDL.com/unlock.php

iPhone 5 A1428 US And CA GSM iOS 7 GM - iPhone5,1_7.0_11A465_Restore.ipsw:

Download: http://hugefiles.net/u3jzx5lg96te

Mirror 1: https://mega.co.nz/#!DREDxBxI!D8spnz97oapqqs1zyRHkezjTEhJ3kESVJguup6qAxBU

Mirror 2: http://www.retinadesigns.net/00001/wp-content/uploads/ios7GM/iPhone5,1_7.0_11A465_Restore.ipsw

Mirror 3: https://mega.co.nz/#!IpJCWL5L!DxGH2Q7Q3SiE_8OZmxdPMQ7-dV0FvO_PoVO2OZx7THs

Mirror 4: http://ifilez.co/firmware/iPhone5.1_7.0_11A465_Restore.ipsw

iPhone 5 A1429 US CDMA And Rest Of World GSM iOS 7 GM - Phone5,2_7.0_11A465_Restore.ipsw:

Download: http://hugefiles.net/okm8tgvqj8xn

Mirror 1: https://mega.co.nz/#!PVEw0BCB!PT3b52w4V9mXEjM_b-QhKkn3DcMeY-_mz6VWlTcPGf4

Mirror 2: http://www.retinadesigns.net/00001/wp-content/uploads/ios7GM/iPhone5,2_7.0_11A465_Restore.ipsw

Mirror 3: https://mega.co.nz/#!Is5RwJBA!Khh4VFBdoz8OmLngSDXVeALqJtNC9yTLLTBq6Ws6E10

Mirror 4: http://ifilez.co/firmware/iPhone5.2_7.0_11A465_Restore.ipsw

iPhone 4S iOS 7 GM - iPhone4,1_7.0_11A465_Restore.ipsw:

Download: http://hugefiles.net/wjrodadrgkml

Mirror 1: https://mega.co.nz/#!LFF3wKwK!Ph_KbnHOlZ6AH9b3uFxNq2GpGggrNTPc8nYgvPAgYs0

Mirror 2: http://www.retinadesigns.net/00001/wp-content/uploads/ios7GM/iPhone4,1_7.0_11A465_Restore.ipsw

Mirror 3: https://mega.co.nz/#!AgYngK5C!J9yBrFy9OMT7RLWWHFg7CiQY5z1kaP3v54Erjnyauhk

Mirror 4: http://ifilez.co/firmware/iPhone4.1_7.0_11A465_Restore.ipsw

iPhone 4 GSM iOS 7 GM - iPhone3,1_7.0_11A465_Restore.ipsw:

Download: http://hugefiles.net/g1k232tdcyar

Mirror 1: https://mega.co.nz/#!TVVFQBYK!Ao7fuEvmbD9779WfgeO3JRqfC-cTHetcCW5YUtRkPyk

Mirror 2: https://mega.co.nz/#!JwghVTQL!SaFgcy5TgNuMQQvDGNvh3BoSdox4H9Uh_24gpU0LRgU

Mirror 3: http://ifilez.co/firmware/iPhone3.1_7.0_11A465_Restore.ipsw

iPhone 4 Rev A iOS 7 GM - iPhone3,2_7.0_11A465_Restore.ipsw:

Download: http://hugefiles.net/9halpy1eeube

Mirror 1: https://mega.co.nz/#!PIFk2C7K!EjDvnXqTU2f2vbtqqtUuzD8YkcY7ulwb9FTUZbPz8jY

Mirror 2: https://mega.co.nz/#!NtZXxSQA!IHWf-hvbLRwPSpPoDxw4SCpy0bcGVtAiOvb7oGqjbQA

Mirror 3: http://ifilez.co/firmware/iPhone3.2_7.0_11A465_Restore.ipsw

iPhone 4 CDMA iOS 7 GM - iPhone3,3_7.0_11A465_Restore.ipsw:

Download: http://hugefiles.net/t0uwpz6gvfg0

Mirror 1: https://mega.co.nz/#!SBEDlC5B!cCTntVuaGbGdCgusnwVNkXb95MEfEEJe6O9YMJ2nAU4

Mirror 2: http://www.retinadesigns.net/00001/wp-content/uploads/ios7GM/iPhone3,3_7.0_11A465_Restore.ipsw

Mirror 3: https://mega.co.nz/#!cw4hALDb!ZJyrUUlrfLT120lK7pWc5gkQDOAJVhRF3-OGCNRcL40

Mirror 4: http://ifilez.co/firmware/iPhone3.3_7.0_11A465_Restore.ipsw

iPod Touch 5th Gen iOS 7 GM - iPod5,1_7.0_11A465_Restore.ipsw:

Download: http://hugefiles.net/xgi9iqwy29du

Mirror 1: https://mega.co.nz/#!DMNFiBYQ!f187rUqlsTTCUCYh0ToEjzL5g0wfaKI0u_lJItoCOwg

Mirror 2: http://www.retinadesigns.net/00001/wp-content/uploads/ios7GM/iPod5,1_7.0_11A465_Restore.ipsw

Mirror 3: http://ifilez.co/firmware/iPod5.1_7.0_11A465_Restore.ipsw

iPad 2 WiFi iOS 7 GM - iPad2,1_7.0_11A465_Restore.ipsw:

Download: http://hugefiles.net/szlbo7qfif46

Mirror 1: http://ifilez.co/firmware/iPad2.1_7.0_11A465_Restore.ipsw

iPad 2 WiFi + GSM iOS 7 GM - iPad2,2_7.0_11A465_Restore.ipsw:

Download: http://hugefiles.net/rl2t5sl2nk9x

Mirror 1: http://ifilez.co/firmware/iPad2.2_7.0_11A465_Restore.ipsw

iPad 2 WiFi + CDMA iOS 7 GM - iPad2,3_7.0_11A465_Restore.ipsw:

Download: http://hugefiles.net/oz2nillbf9j0

Mirror 1: http://ifilez.co/firmware/iPad2.3_7.0_11A465_Restore.ipsw

iPad 2 Rev A iOS 7 GM - iPad2,4_7.0_11A465_Restore.ipsw:

Download: http://hugefiles.net/z4e76fkebkdq

Mirror 1: http://ifilez.co/firmware/iPad2.4_7.0_11A465_Restore.ipsw

iPad Mini A1432 WiFi iOS 7 GM - iPad2,5_7.0_11A465_Restore.ipsw:

Download: http://hugefiles.net/2p2d21w01vt5

Mirror 1: https://mega.co.nz/#!iBFXFYyL!WoWhEH04lOCcuAeM8gTWJjUaibY_5BTCsZc-ZJ3cCEw

Mirror 2: http://www.retinadesigns.net/00001/wp-content/uploads/ios7GM/iPad2,5_7.0_11A465_Restore.ipsw

Mirror 3: http://ifilez.co/firmware/iPad2.5_7.0_11A465_Restore.ipsw

iPad Mini A1454 US & CA GSM iOS 7 GM - iPad2,6_7.0_11A465_Restore.ipsw:

Download: http://hugefiles.net/tdyp8edys7zj

Mirror 1: https://mega.co.nz/#!7Z1Q0bzI!cFU1ekgwrJeb1hp8o4IgfSgWTilDGUODylSUWZGxVsU

Mirror 2: http://ifilez.co/firmware/iPad2.6_7.0_11A465_Restore.ipsw

iPad Mini A1455 US CDMA And Rest Of World GSM iOS 7 GM - iPad2,7_7.0_11A465_Restore.ipsw:

Download: http://hugefiles.net/8pcpcibo4au4

Mirror 1: http://ifilez.co/firmware/iPad2.7_7.0_11A465_Restore.ipsw

Mirror 2: https://mega.co.nz/#!idtFACoZ!GIu6sTYproTO4afZSIEUllctS2QYpm1vjU-Z90EjZF0

iPad 3 WiFi iOS 7 GM - iPad3,1_7.0_11A465_Restore.ipsw:

Download: http://hugefiles.net/rfogb7pt73qj

Mirror 1: http://ifilez.co/firmware/iPad3.1_7.0_11A465_Restore.ipsw

iPad 3rd Gen WiFi + CDMA iOS 7 GM - iPad3,2_7.0_11A465_Restore.ipsw:

Download: http://hugefiles.net/sr9lra1w56l4

Mirror 1: http://ifilez.co/firmware/iPad3.2_7.0_11A465_Restore.ipsw

iPad 3rd Gen WiFi + GSM iOS 7 GM - iPad3,3_7.0_11A465_Restore.ipsw:

Download: http://hugefiles.net/xf14tqks0jaq

Mirror 1: http://ifilez.co/firmware/iPad3.3_7.0_11A465_Restore.ipsw

Mirror 2: https://mega.co.nz/#!mJtmwYjC!JFYzGwqFKwOkrXpjXFsm0zKt30tUjUuj38vL01aGYh4

iPad 4th Gen A1458 WiFi iOS 7 GM - iPad3,4_7.0_11A465_Restore.ipsw:

Download: http://hugefiles.net/saatpwrjkw2r

Mirror 1: http://ifilez.co/firmware/iPad3.4_7.0_11A465_Restore.ipsw

Mirror 2: https://mega.co.nz/#!7cswTYzA!CaIkjRhwjHckydM4Zy3sOGwdzn9V9dPpFyXxnXu5M5w

iPad 4th Gen A1459 US & CA GSM iOS 7 GM - iPad3,5_7.0_11A465_Restore.ipsw:

Download: http://hugefiles.net/2c7fk3iayrd2

Mirror 1: http://ifilez.co/firmware/iPad3.5_7.0_11A465_Restore.ipsw

Mirror 2: https://mega.co.nz/#!mJtmwYjC!JFYzGwqFKwOkrXpjXFsm0zKt30tUjUuj38vL01aGYh4

iPad 4th Gen A1460 US CDMA And Rest Of World GSM iOS 7 GM - iPad3,6_7.0_11A465_Restore.ipsw:

Download: http://hugefiles.net/yp8qyn6sgsc1

Mirror 1: http://ifilez.co/firmware/iPad3.6_7.0_11A465_Restore.ipsw

Mirror 2: https://mega.co.nz/#!DI9jmZAR!RajNYwdqYOpgkLzLxzgNPQtCHLN1_5jLblQvifAh1Hk

iTunes 11.1 Beta 2 (Mac) - itunes_11.1_beta_2.dmg

Download: http://hugefiles.net/0ojkuw8lv8y3

Mirror 1: https://mega.co.nz/#!YZ8BAAIK!X0Jel2EcrzZWSvRW9V-WbxPDLDRsyCFWbR-e94Iswo4

Mirror 2: http://www.retinadesigns.net/00001/wp-content/uploads/ios7GM/itunes_11.1_beta_2-2.dmg

Mirror 3: https://mega.co.nz/#!glEXEZjR!Ul9HiD9jJyLjQUZBHUxDhGcKD2xB3leu2LtbhxKhlSI

Xcode 5 GM - xcode_5_gm_seed.dmg

Download: http://hugefiles.net/z5grn96ncw71

Mirror 1: http://www.datafile.com/d/TVRBM01EUXpOUT0F9

Mirror 2: http://extabit.com/file/279vmpuo54tee

Please follow us for real-time updates:

Twitter: http://twitter.com/iMZDL

Facebook: http://facebook.com/iMZDL

Google+: https://plus.google.com/+iMZDL